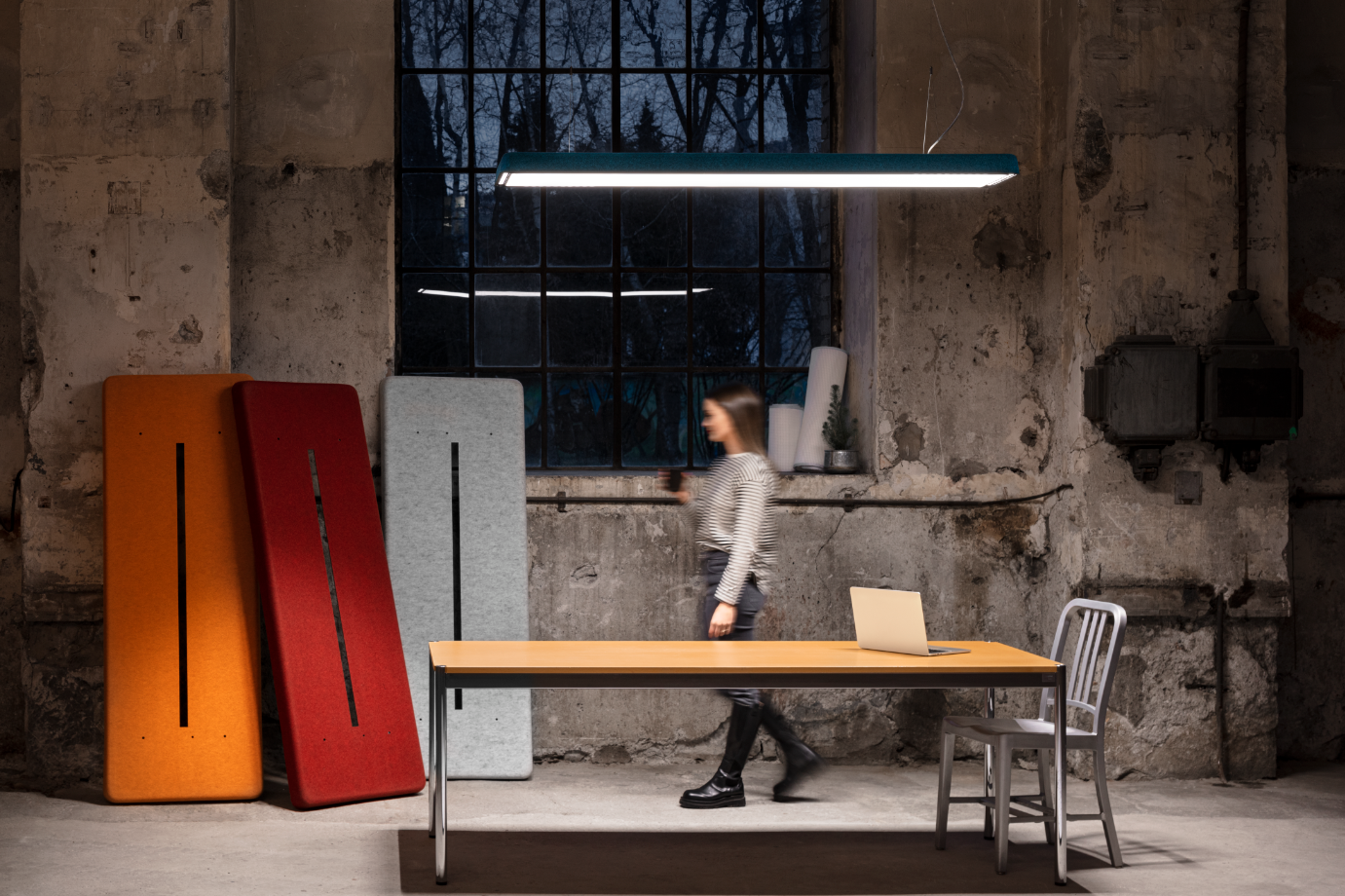 CREATIONS OF LIGHT
Architecture, (lighting) technology and design retain their best value when they are timeless and durable.
Light is the most essential aspect of how we perceive a space. It is responsible for the first impression and also reveals details that contribute to the overall experience. The way architecture approaches the matter of lighting in buildings is of particular significance, especially in the context of office spaces. This is due to the changing perception of such spaces by employees in the post-COVID period and the imperative to enhance their appeal. Zumtobel is dedicated to gaining insights into the latest trends and exploring how modern lighting can cater to the evolving needs of users.
In addition to the ergonomic aspects of a space, which involve tailoring the environment and working conditions to the anatomical and psychophysical capabilities of individuals, another equally crucial element is its capacity to facilitate technical changes and dynamic transformations.
SPACE CUSTOMIZATION
The growing demand for space reconfiguration, such as transforming an area initially designated for individual work into a space optimized for teamwork, has become more critical than ever in contemporary workspace planning. In newly designed offices, teamwork conditions now occupy a significant 50% of the total office space. This necessitates lighting solutions that offer flexibility for future space adaptations, all while ensuring outstanding lighting quality, thus eliminating the need for compromises.
The modular design allows easy replacement and new arrangement of light fixtures without interfering with the ceiling structure. In addition not just parallel lines, but also louvre or cross-shaped lighting installations can be achieved with SLOTLIGHT infinity II thanks to newly designed connection modules in an L, X and T shape as well as 90-degree corner connectors. The light line also forms the basis for an enhanced lighting infrastructure that can be integrated in the future with downlights, spotlights or sensors for digital services, for example. SLOTLIGHT infinity II uses a newly developed 7-pole terminal. This contains three phases as well as two lines for DALI and two lines for emergency lighting.
As a human-centric, future-proof lighting solution, the SLOTLIGHT infinity II light line family helps to ensure that buildings can be used with enjoyment and success for many generations to come. With the new version, this is guaranteed not only by the sustainable design that's in line with Zumtobel's Circular Design Rules, but also by the lighting system's versatility and modularity. The light lines can be mounted as flexibly as those of the previous version, for example as a continuous line, around corners or in creative formations such as an X or T shape.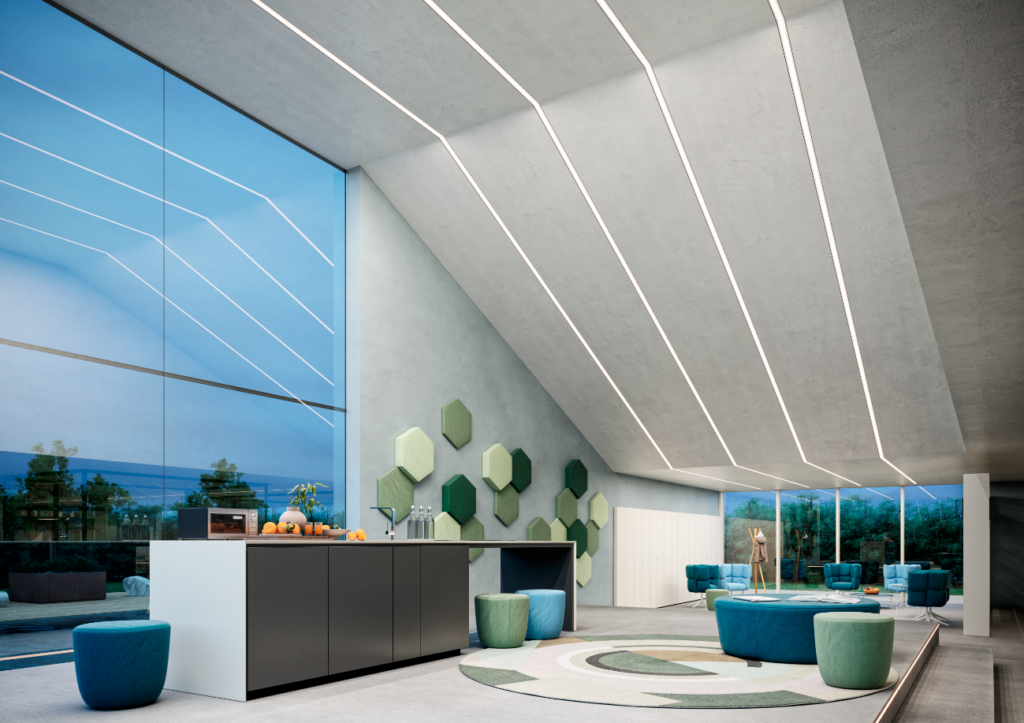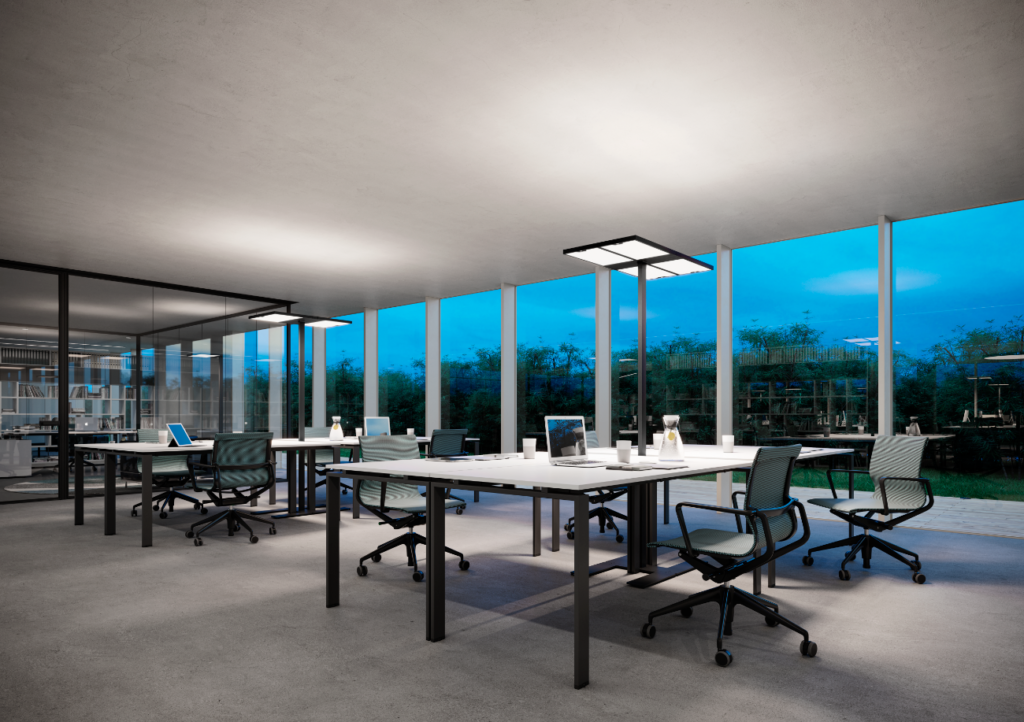 CIRCULAR DESIGN RULES: Sustainable product development
Sustainable designs are an increasingly significant trend in the construction industry. In contemporary office renovations, materials with enhanced durability and other positive environmental attributes are being utilized. Opting for building and finishing materials with the least possible negative environmental impact, such as FSC-certified (Forest Stewardship Council) wood, eco-friendly paints, and recycled plastics, including metals, contributes to the reduction of natural resource consumption and the minimization of toxic emissions. This principle also applies to lighting.
ARTELEA, Zumtobel's new plug-and-play free-standing luminaire, is keeping pace with this trend by bringing the first Zumtobel product to receive the Cradle to Cradle Certified® Product Standard Version 4.0 certification with its focus on sustainability and circularity. In addition to the lumen output and design, ARTELEA also helps to bring the dynamics of daylight indoors.
A real chameleon, Zumtobel's slimline free-standing office luminaire ARTELEA adapts to a wide variety of New Work scenarios while never compromising on sustainability. It combines an understated appearance and high lumen output of up to 38,000 lumen in a luminaire that is both timeless and future-proof. One pole, two different sizes of luminaire heads in various configurations plus a wall luminaire equals up to nine possible variations – all individual but with a uniform look that facilitates a consistent office design language and maximum creative freedom.
ACOUSTICS' IMPACT ON WORK COMFORT
Zumtobel's new pendant luminaire TRAMAO combines maximum lighting quality with effective sound absorption and contemporary design, making it an eye-catcher in offices as well as the hotel and restaurant industries serving two purposes at once: to create optimum visual conditions and a pleasant, relaxed atmosphere.
TRAMAO – the name of this pendant luminaire refers to the textile nature of the materials involved. In Italian "la trama" represents "texture". The felt-look fleece cover not only adds a stunning material effect to the room, but also provides effective sound-wave absorption at differing compression densities. The pendant luminaire therefore promotes awareness of the senses and delivers a high-quality spatial experience, creating optimum conditions for concentrating on work without disruption in the office and for a pleasant atmosphere in hotels and restaurants.
The role of lighting in modern office design is crucial. Lighting not only has a direct impact on the aesthetics and functionality of the office space but can also play a significant role in shaping three key elements: sustainability, space flexibility, and acoustics.